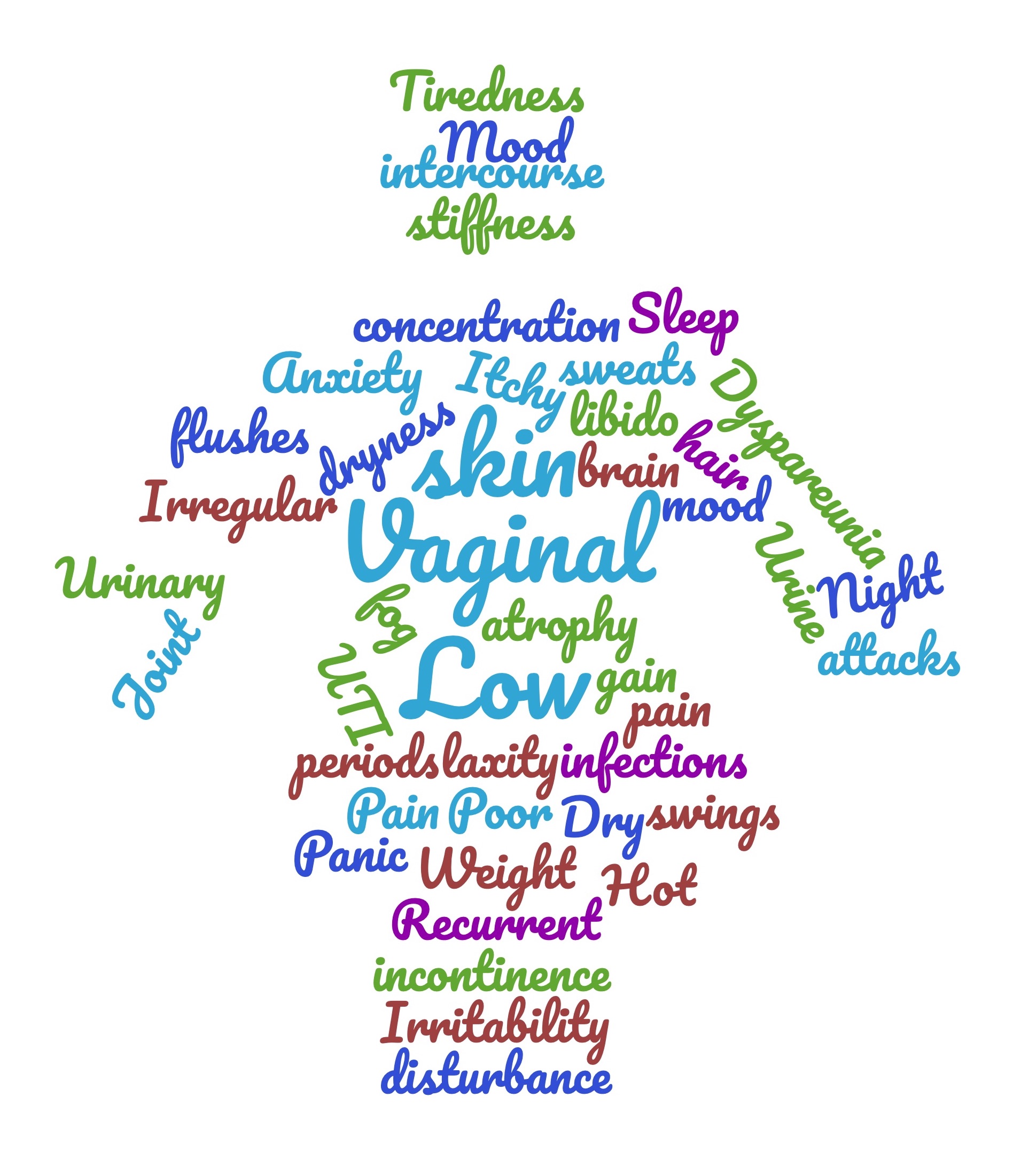 What is the menopause?
All women experience the menopause as part of the ageing process. The term 'menopause' can describe any of the changes a woman goes through either just before or after she stops menstruating, marking the end of her reproductive period.
The average age of the menopause is 51 years but some women can suffer menopausal symptoms for up to 10 years and 0.1% of women have symptoms in their 20s. While some women sail through the menopause other women are plagued with a variety of symptoms including:
Hot flushes | Night sweats | Joint pain / stiffness | Dry skin / hair | Pain with intercourse ( Dyspareunia) | Sleep disturbance | Tiredness | Mood swings | Irritability | Panic attacks | Anxiety | Low mood | Poor concentration / brain fog | Vaginal dryness | Vaginal atrophy | Vaginal laxity | Itchy skin | Weight gain | Low libido | Urinary incontinence | Recurrent Urine infections ( UTI) | Irregular periods
Virtual consultations
We always recommend virtual consultation for a selected range of services
Everyone needs a balanced endocrine system. Hormones regulate every function within the body and so when our hormones are well balanced we feel well, energetic and healthy. Hormonal imbalance can cause problems such as PMT (pre-menstrual tension) menopausal symptoms, blood sugar fluctuations, fatigue, lethargy, loss of motivation, constant tiredness, mood swings and depression.
HRT can provide relief from many of the symptoms suffered. Here at The Women's Health Clinic our nurses with a special interest in menopause can discuss both treatment approaches so that you can explore and then choose the most suitable therapy for yourself. There is a lot of conflicting evidence around the safety of both treatments. However, for most women the risks of either therapy are far less than you imagine.
Due to longer life expectancy, women are now spending a third of their lifespan menopausal and so managing the menopause is becoming an increasing part of women's health. With the NHS at crisis point and GP's increasing overstretched, a 7-10 minute appointment is not enough to thoroughly discuss the many symptoms you many be experiencing due to the menopause, and how they impact on your day to day life and relationships.
Here at The Women's Health Clinic we believe every woman deserves the time to explore her symptoms and every option available. We understand that, as women, we are not all the same . Our diagnosis relies on listening to your symptoms and then a blood test that will pinpoint your exact hormone imbalance. We can then help you choose the most effective treatment plan that will benefit you and write you a prescription for this. Whether it is HRT or a Mirena coil to give you progesterone – we can meet all of your needs in just one clinic.
Hormone Replacement Therapy (HRT)
Hormone Replacement Therapy (or HRT) is currently the most common used treatment for menopausal symptoms. As mentioned earlier, during the menopause there is a decline of oestrogen in a woman's body which results in an hormone imbalance. This method of treatment aims to replace hormones to rebalance this. There are over 50 different types of HRT combinations. This means that there is a range of types (hormone type) and dosage levels which makes it more applicable to a large group of different individuals. If suitable for HRT, individuals will discuss the best combination for them with their practitioner.
Below are the main forms of HRT combinations
Oestrogen on its own
As oestrogen this is the core hormone that declines during this transition to the menopause, it is the main ingredient of all HRT medications.
For those who have had a hysterectomy (removal of the uterus), oestrogen alone is most likely the best HRT route to go down. Depending on the individual's severity of symptoms and general health, the practitioner will advice on the best starting dosage which may change due course.
Oestrogen and Progestogen
For those who have not had a hysterectomy, excess oestrogen can thicken the lining of the womb (endometrium). This can potentially lead to excess growth or cancer. To counteract this, a progestogen is also combined with oestrogen to protect the endometrium.
Furthermore, there are three different types of delivery methods (this is how the medication is taken):
• Orally – as a tablet (via mouth)
• Transdermally – through the skin (takes the form of a patch of gel)
• Implant – it is positioned beneath the skin and provides a slow but steady release of oestrogen throughout a certain period of time
When it comes to vaginal and bladder symptoms, it is worth noting that there are creams or vaginal rings available to provide symptom relief. More information about this can be discussed with your practitioner.
It is very important to note that whilst HRT is considered to be the most effective to many people, it may not be for everybody. Depending on the individual, side effects may arise. It is always important for an individual and their practitioner to discuss the ups and downs of treatments before going ahead. Your health that must be prioritised before anything.
If you opt for this treatment, the nurse will write a prescription and provide it to the specialist pharmacy. Here, it is prepared and compounded for you and delivered to your door within few days.
51-year old Karen came to The Women's Health Clinic when life began to get harder. It started with the odd hot night in bed but now Karen was permanently rosy cheeked. A lower tog duvet and fresh sheets couldn't stop the sweat from drenching her back, Karen's hormones were out of control.
Flushing her way through her appointment, Karen informed our nurse that HRT just wasn't an option for her due to a family medical history and anyway, she would prefer a more natural treatment.
After her blood test came back the nurse began to talk through the various options enabling Karen to make her own choices now she was fully informed on how her body would react. Leaving with a prescription in her hand, Karen got back in touch with the clinic just weeks later to say that she was now feeling like her old self.
She says, "It got to the stage where I wouldn't leave the house without deodorant and a spare top in case another hot flush decided to come on. They were so unpredictable that I often felt housebound, turning down invitations to meet with friends because of the 'what if?' Understanding that this could go on for another 5-years just wasn't an option for me so I was so relieved when I found I could have a consultation at my local clinic. I finally feel like my old self again."
Prices apply to UK Only where we are Nurse led. In many countries only Doctors are allowed to carry out this treatment. Please check the relevant clinic page for country specific pricing information